Welcome to CABPS
The Canadian Association of Bariatric Physicians and Surgeons (CABPS) represents Canadian specialists interested in the treatment of obesity and severe obesity for the purposes of professional development and coordination and promotion of common goals.
---
CABPS WEBINAR SERIES
Mental Health Series
The Bidirectional Relationship of Obesity and Cognition

November 22, 2022 | 7:00-8:15pm ET
Medical Nutrition Therapy Series

Consequences of Small Intestinal Bacterial Overgrowth and Gut Dysbiosis after Bariatric Surgery
December 13, 2022 | 7:00 – 8:15 p.m. ET
For complete information and to register, please click here.
CAPBS Medical Nutrition Therapy

April 13, 2022 | 7:00-8:15pm ET
Post-Op Bariatric Patients Pursuing Exercise: Recommendations and Nutrition Advice



March 7, 2022 | 7:00-8:15pm ET
M&M Rounds
CABPS' Canadian M&M Rounds:
A Discussion of Complex Bariatric Cases,
Revisions and Complications -Part 3 of 4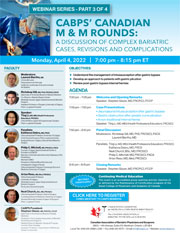 April 4, 2022 | 7:00-8:15pm ET

Réunion canadienne de morbidité et mortalité du CABPS: discussion de cas complexes, chirurgies révisionnelles et complications -Partie 3 de 4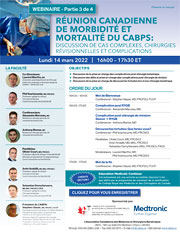 14 mars 2022 | 16h00 -17h30 ET
Webinar Series #2
Eating Disorders in Bariatric Surgery Patients: Detection and Management
-Part 2 of 6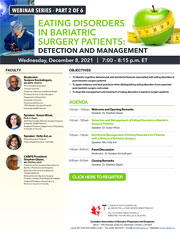 December 8, 2021 | 7:00-8:15pm ET
Mental Health "Red Flags" for Bariatric Surgery: Revisting Evidence
-Part 1 of 6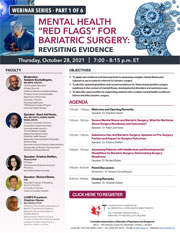 October 28, 2021 | 7:00-8:15pm ET
ABOM Webinar Series
ABOM Webinar Series:
Cancer and Obesity -Part 5 of 6


November 29, 2021 | 7:00-8:15pm ET
ABOM Webinar Series: Let's Talk
About Sex, Intimacy
and Obesity -Part 4 of 6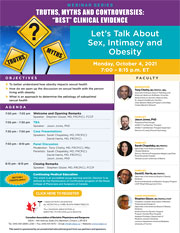 October 4, 2021 | 7:00 -8:15pm ET
NEWS
Presentations and Recordings Canadian Obesity Weekend | May 5-7, 2022
The Presentations and Recordings are available to Members Only. Click here to access the Library. 
New Canadian Adult Obesity Clinical Practice Guidelines Published: Treatment Goals Are Improved Health And Quality Of Life, Not A Number On A Scale
EDMONTON, August 4, 2020-Canadians living with obesity and the healthcare professionals who support them have a new roadmap for quality collaborative care. ... read more
Nouvelles Lignes Directrices Canadiennes De Pratique Clinique Pour L'obésité Chez L'adulte
MONTREAL, le 4 août 2020-Les personnes aux prises avec l'obésité et les professionnels de la santé qui les accompagnent peuvent maintenant s'appuyer sur une nouvelle approche pour traiter cette maladie chronique et assurer des soins de qualité aux patients. ... read more
CABPS Statement on Racism
The Canadian Association of Bariatric Physicians and Surgeon (CABPS) shares in the great sadness and the intolerable fact that racism, bigotry, and hatred remain pervasive and rampant. ... read more
Déclaration du CABPS sur le racisme
L'Association canadienne des médecins et chirurgiens bariatriques (CABPS) partage la grande tristesse et révolte que le racisme, le fanatisme et la haine restent omniprésents et rampants. ...read more
Travel Awards/Grants
The Canadian Association of Bariatric Physicians and Surgeons (CABPS) will award a minimum of four (4) travel awards/grants annually, two in each category of Physician/Resident (Medicine/Surgery/Psychiatry) and Allied Health. Applicants will apply this grant towards attendance to Canadian Obesity Weekend. ... read more
CABPS Elects New President
TORONTO, ON (June 3, 2019) The Canadian Association of Bariatric Physicians and Surgeons (CABPS) elected Dr. Stephen Glazer of Humber River Hospital, Toronto, Ontario as its new President at its recent Annual General Meeting. Dr. Glazer was previously the Association's Vice President and Conference Chair. ...read more
OTHER EVENTS
SAVE THE DATE
May 4-6, 2023 Canadian Obesity Weekend

---
---