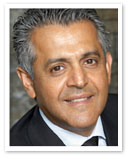 Dr. Mehran Anvari
Mehran Anvari MB BS, PhD, FRCSC, FACS Chair, Minimally Invasive Surgery and Surgical Innovation Professor, Department of Surgery, McMaster University
Dr. Mehran Anvari is a tenured professor of surgery at McMaster University, specializing in minimal access techniques, at St. Joseph's Healthcare Hamilton. Dr. Anvari was one of the first surgeons in Canada to use robotics in surgery, establishing the world's first telerobotic surgical service.
Dr. Anvari holds several clinical and administrative appointments. He is the past president and founding member of the Minimally Invasive Robotic Association, the scientific director and CEO of the Centre for Surgical Invention and Innovation, and the founding director of the Centre for Minimal Access Surgery. Dr. Anvari is the clinical lead and chair of the Ontario Bariatric Network and the Chair of Minimally Invasive Surgery and Surgical Innovation at McMaster.
As a researcher, supervisor, mentor and advisor, Dr. Anvari has a continued commitment to teaching, education, publication and innovation. Dr. Anvari is the editor-in-chief of the International Journal of Medical Robotics and Computer Assisted Surgery, and the founding director of the McMaster Institute for Surgical Invention, Innovation and Education. He has authored over 150 publications; holds seven patents; and is the principle investigator of numerous studies related to obesity, gastrointestinal disease, and surgical robotic systems and techniques. He has been honored many times for his innovation and research: chosen as the McMaster Innovator of the Year in 2009, and awarded the ORION Leadership Award in 2010. Dr. Anvari's work with telerobotics has also been recognized by the federal and provincial government with the "Gold Medal of Distinction" and the "Diamond Award for Innovation in Technology".